The Integrated Utility Hub
A high-performance and scalable neighborhood regeneration center that transforms waste into renewable assets
As a powerful regenerative city catalyst, Regensia designs and facilitates the development of Integrated Utility Hubs (IUH). The IUH functions as a community's metabolic engine that utilizes off-the-shelf technologies within new configurations to transform municipal liabilities (solid and liquid waste) into valuable assets for local use: reusable water, renewable energies, nutrient-rich fertilizer, fresh food, and high purity reclaimed materials. The IUH is highly scalable and can power urban expansion projects requiring new infrastructure, or it can plug into existing utility grids to take pressure off of aging infrastructure systems. The core functions of the IUH are as follows:
Solid Waste Management. Utilizes leading-edge materials recovery systems to capture 80-90% of municipal waste streams and divert waste from landfills. The IUH biodigestion system is leading-edge, converting organic waste into biogas and fertilizer at a rate that nearly doubles conventional digesters.
Water Purification. Purifies wastewater without chemicals to various reusable standards in a fraction of the space, time, and cost of conventional treatment facilities. Outputs can exceed US primary national drinking water standards.
Energy Generation.  Combined heat, hydrogen, and power (CHHP) system can generate purified biogas, clean baseload electricity, heat, and pure hydrogen for buildings and zero-emission vehicles. The IUH can also mine heat and nutrients from sanitary waste lines as additional renewable energy sources.
Food Production. Produces fresh seafood, lettuce, and herbs for local consumption within a four-season facility that is weather, flood, and drought proof. The closed-loop process provides a quantum leap in productivity at 50 times that of conventional farming approaches.
Nutrient Cycling. The IUH also produces an NPK-rich (nitrogen/phosphorus/potassium) organic fertilizer by-product that is of higher quality than conventional fertilizers.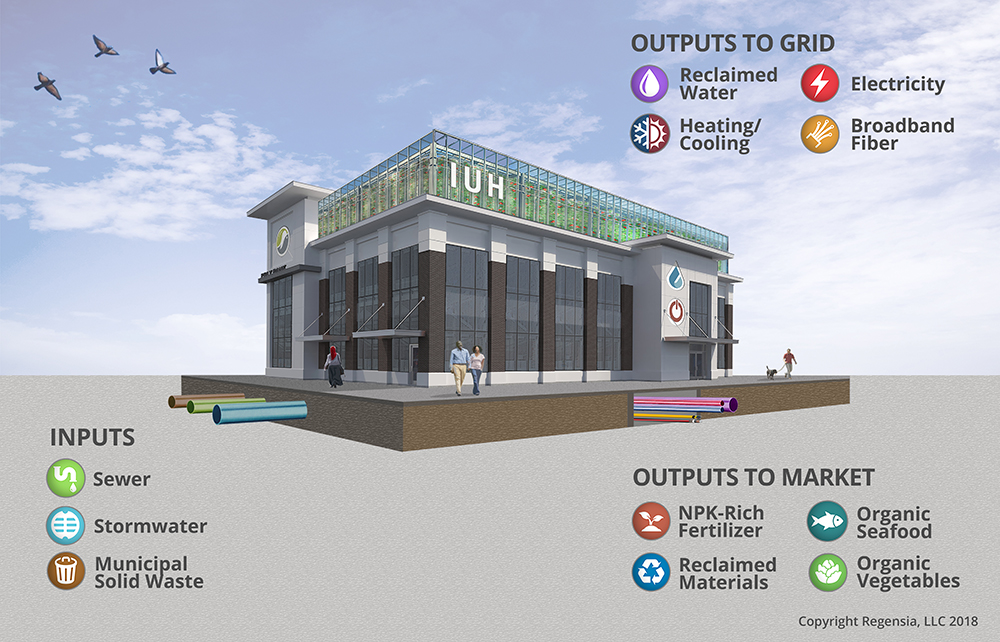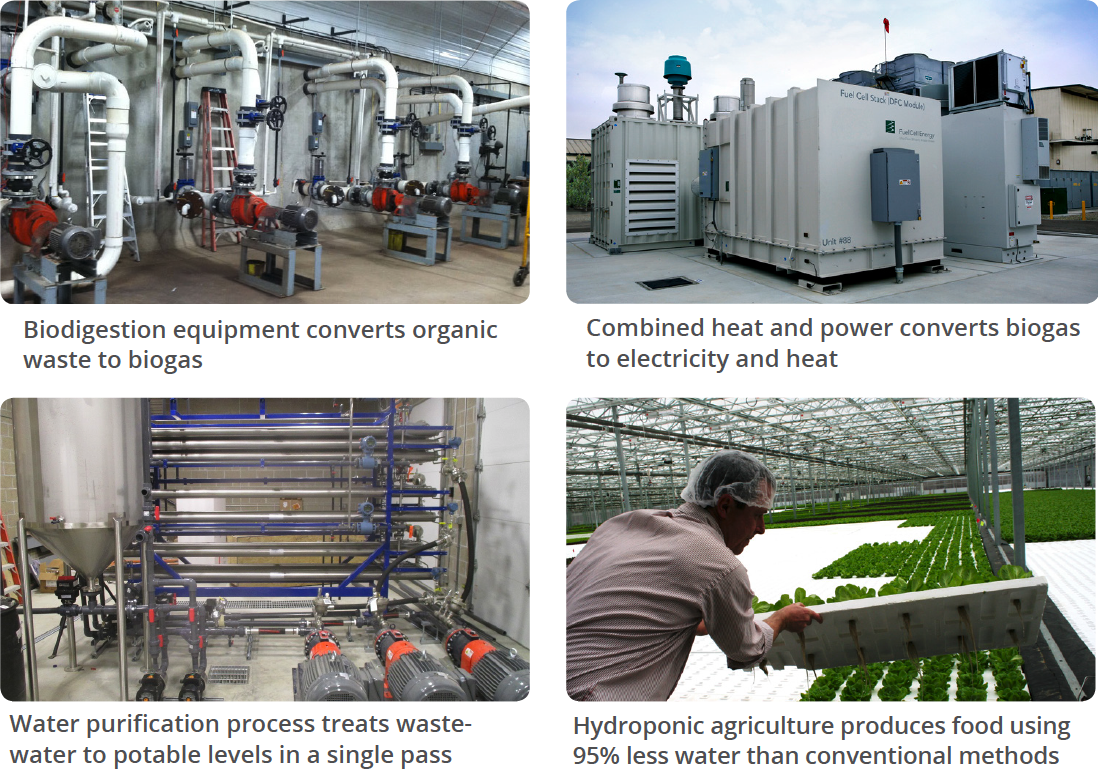 A Transformative Infrastructure Business Model
The Integrated Utility Hub  represents a holistic and disruptive infrastructure business model designed to address pressing 21st century development challenges. It delivers new levels of urban systems performance and community benefits by employing the following characteristics:
Stacked Functions. The IUH provides the function in one facility of what is traditionally provided within multiple capital and resource intensive single-function facilities. This enables communities to access  reliable resources and services at far less systems-wide costs.
Circular Metabolism. The IUH employs circular economic principles by converting conventional costs and public health liabilities (solid and liquid waste) into valuable and sustainable assets that have market value (food, energy, water, fertilizer).
Symbiotic Production Efficiencies. The IUH reduces internal production and operating costs through symbiotic, closed-looped processes. Every output in the Hub is an input for another part of the system, creating 'wholesale to wholesale' production efficiencies and cost savings that can be transferred to local community members.
Distributed Siting. The IUH is highly scalable and can be sited in dense urban areas. This enables the Hub to serve as an urban 'acupuncture point' and manage resources close to users with high demand, taking pressure off of stressed centralized systems, reducing transmittal costs and associated impacts, and enhancing urban resilience were a disaster to strike.
Public Amenities. In addition to its production capabilities, the IUH can serve as a valuable asset within the public realm, incorporating various civic amenities such as food markets, offices, exhibition spaces, and viewing platforms.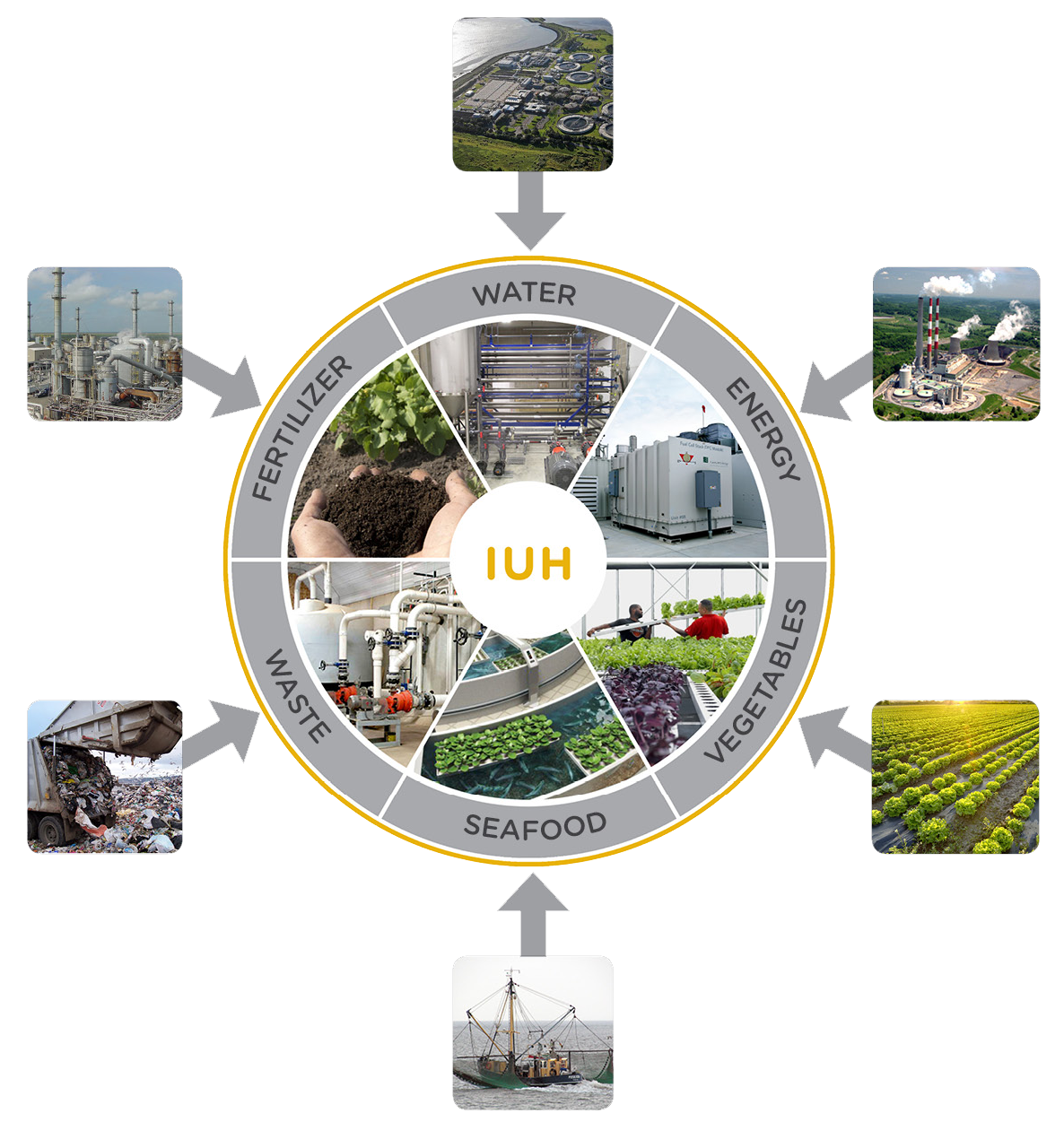 The Integrated Utility Hub represents a paradigm shift in urban resource management and grid functionality. Review our Featured Projects  to see the IUH modeled for different communities.
Delivering a Robust 'Win-Win-Win' Value Proposition
The Integrated Utility Hub represents a powerful and innovative new opportunity for communities to realize ambitious environmental, social, and economic development goals within a single investment. The following information introduces a conceptual IUH system with related inputs, outputs, and projected systems-wide benefits.
INPUTS



1 million gallons of wastewater/day (including stormwater)
100 tons of separated organic solid waste/day
OUTPUTS
5MW baseload electricity + heat
800k gallons of recycled water/day
1.2k lbs seafood/day
7k heads of lettuce/day
12 tons NPK-rich fertilizer/day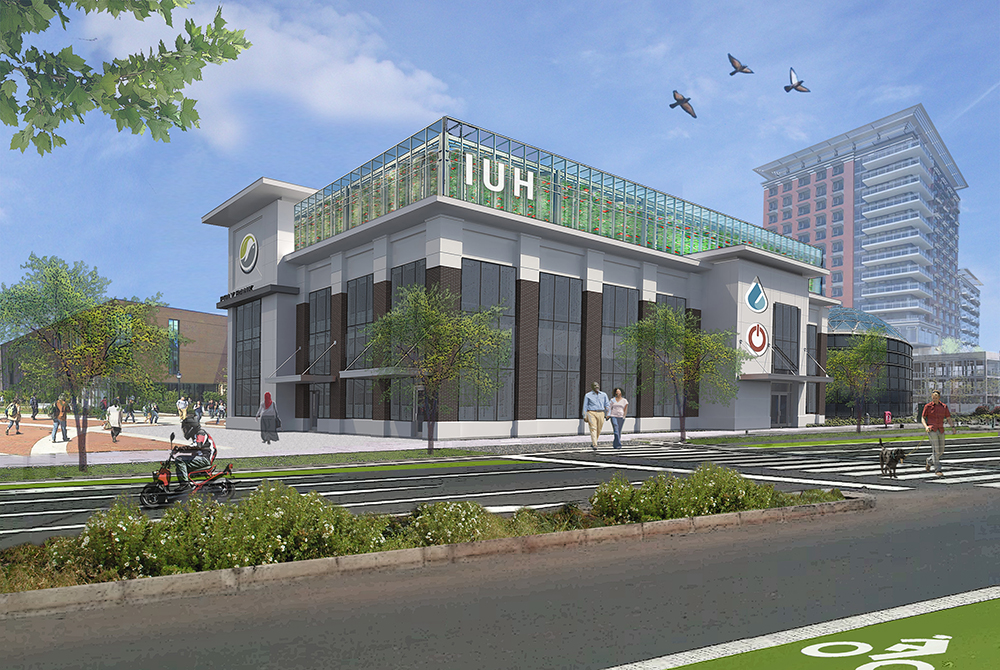 Regenerative Community Benefits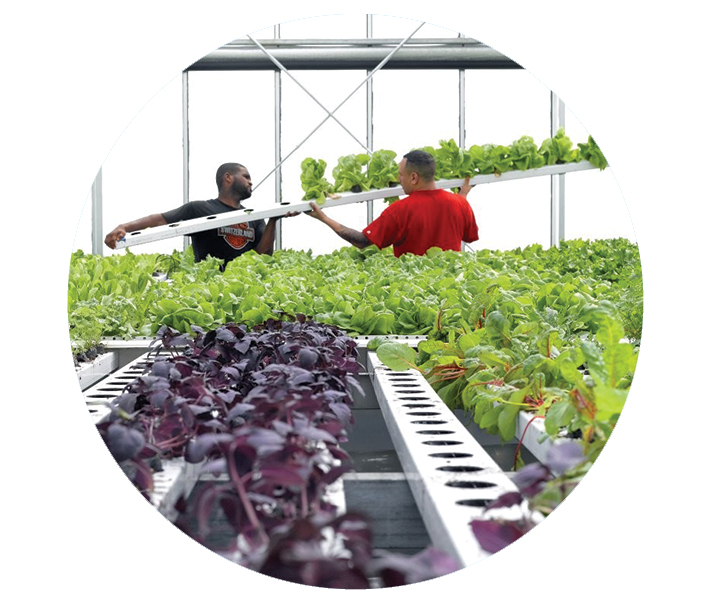 Jobs & Economy
60 permanent jobs
100 construction jobs
$14M new economy from local jobs and products/yr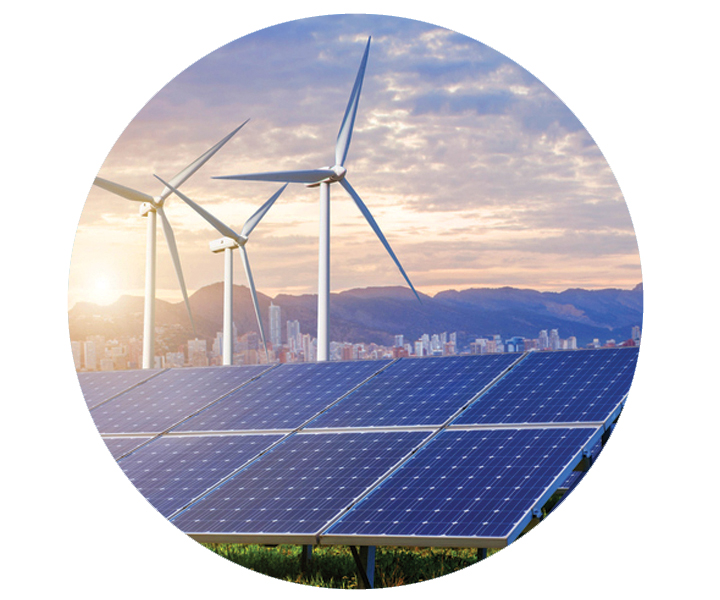 Energy & Carbon
5k homes powered, or
8k electric vehicles charged
70k metric tons of CO2 saved/yr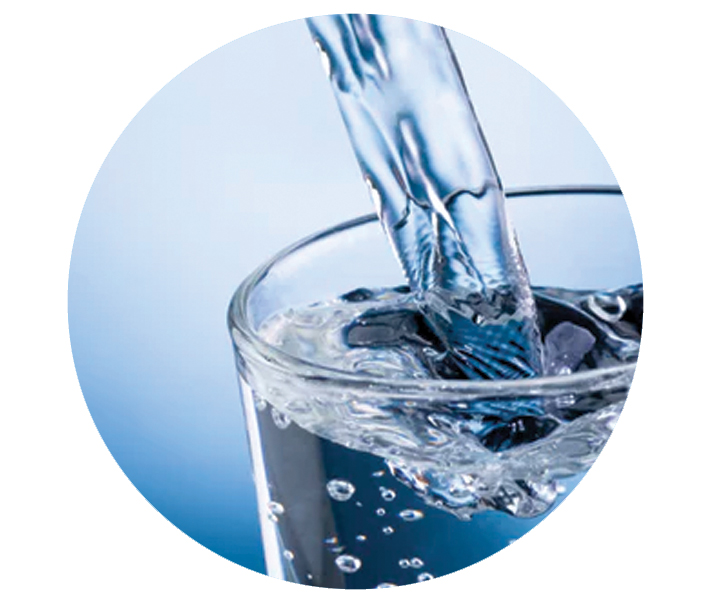 Water
290M gallons of recycled water supply supply produced/yr
350M gallons of wastewater discharge avoided/yr
75M gallons of water conserved/yr (vs conventional lettuce production)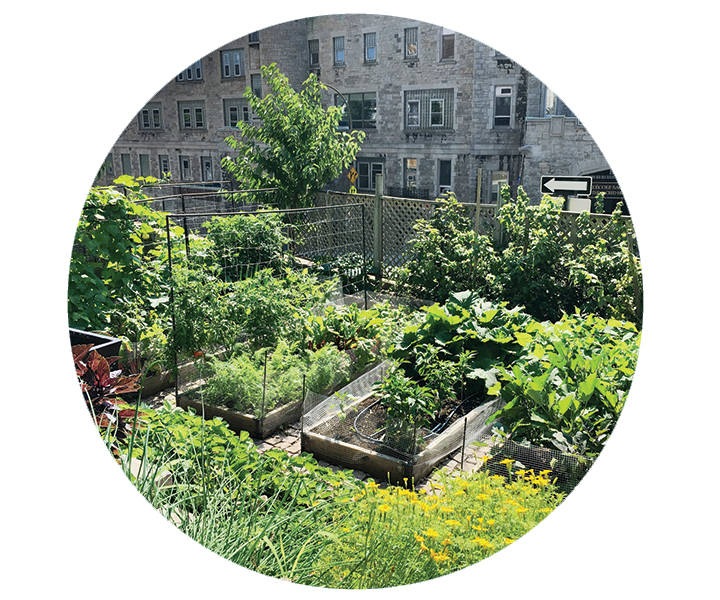 Food & Land Use
36.5k tons of organic waste diverted from landfill/yr
25k/100k people fed/yr (seafood/lettuce)
50 acres of soil restored with fertilizer/yr
20 acres of farmland conserved